The EX-50 Remote Precipitation Sensor Extension Kit

Allows Extension of the DS-8/8C or DS-824/DS-824C Remote Precipitation Sensor


Extends Sensor Up To An Additional 50 Feet


Assures Proper Cable Diameter for Enclosure Weathertight Strain Relief


Cable Connector is IP67 Watertight and Submersible


Cable Connector is Field Terminated with No Special Tools Required

The
EX-50
provides an
ASE endorsed
method of extending the installation of your DS-8, DS-8C, DS-824, or DS-824C sensor, allowing convenient and accessible location of the controller and optimal positioning of the remote precipitation sensor. Extend the standard 10 foot sensor cable up to an additional 50 feet.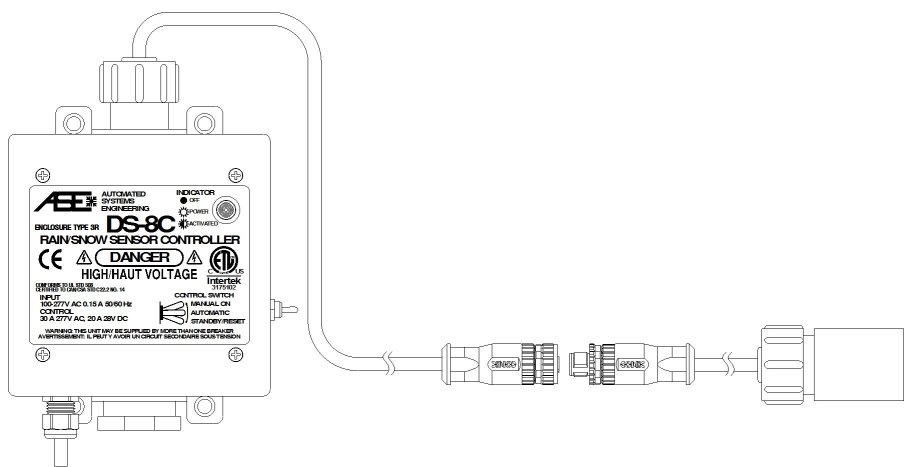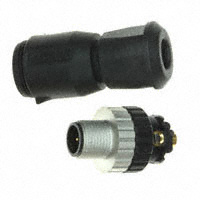 The cable supplied is a 4 conductor x 18AWG stranded, tinned cable, heavy enough to assure minimal voltage drop and shielded to reduce susceptibility to outside interference. The outside diameter of the cable is specially selected to enhance the weathertight seal on the top of the enclosure. One connector end is pre-terminated to the 50 foot cable. The other connector end can be easily terminated to the precipitation sensor cable using common hand tools. No Specialized Tools Are Required. The mated connector pair provide an IP67 rated watertight seal, capable of full submersion in gutters, downspouts, or valleys.
Sensor wiring is performed by sliding the provided sealing grommet and connector body over the remote sensor cable end. The user then removes a section of outside insulation, splays the inner conductors, then removes a section of the inner insulation from each lead. The termination point for each lead on the connector is a screw clamp "terminal block" style position. The stripped lead of appropriate color is inserted into the terminal and the screw is tightened. The center terminal allows carrying the shield through the connector for enhanced noise immunity. The installer then screws and tightens the back shell to the connector body and the grommet/strain relief assembly to the back shell. The free end of the EX-50 is then fed through the weathertight strain relief on top of the DS-8 enclosure and is cut and terminated to an optimal length for the installation. A consistent color code is maintained with the EX-50.
Maintain your enclosure's integrity and improve reliability. Use the EX-50 when precipitation sensor extension is required.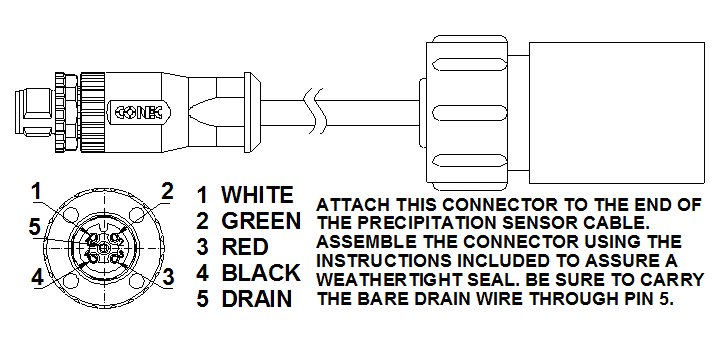 EX-50 Specifications
Dimensions, Cable
0.205"(5.2mm) OD x 50'(15m)
Dimensions, Connectors
0.790"(20mm) x 4.8"(120mm) Mated
Operating Temperature
-22oF to +185oF (-30oC to +85oC)
Environmental Rating
IP67 When Mated
Contact Plating
Gold Plated Nickel
Connector Rating
60V, 4A @ 40oC
RoHS Compliance
2002/95/EC RoHS Compliant

EX-50 Remote Precipitation Sensor Extension Kit
Typical leadtime for an EX-50 is stock to 1 week.
Please call for current pricing and leadtime.
Purchase orders accepted with approved credit. Terms are net 30 days.
Shipping and applicable VAT, customs charges, brokerage fees, and duties are not included.



Visa and MasterCard accepted.
2% surcharge on all international
and US government credit card orders.

For More Information, Contact
Automated Systems Engineering, Inc.
2519 E Saint Vrain Street
Colorado Springs, Colorado, USA 80909
Phone: 719-599-7477 FAX: 719-599-7482


info@goase.com
We accept all major credit cards!





Home DS Sensors GFPE DP-7B CDP-2 EX-50 Cable Sets Parts Manuals Troubleshooting
Best if viewed at 1024 x 768 or higher
This site is copyright 1998-2015 by Automated Systems Engineering, Inc.
Comments about the website? Please contact webmaster@goase.com
Last Update: 03/25/16