GF-1 and GF-2 Ground Fault Protection Units
The National Electrical Code and Canadian Electrical Code both require it. And you know you need it to be compliant.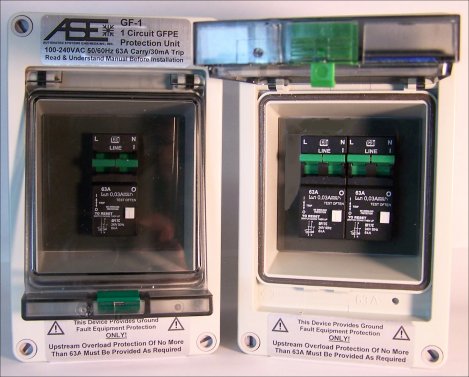 But a true 30mA trip point GFPE breaker can be hard to find. And, if you DO find one for your specific load center, prepare for special ordering, long lead times, and high costs! If you are working on an older home a GFPE breaker may not be available. And substituting a GFCI may help protect...until the high sensitivity causes a false trip and damage occurs from a non-functioning snow melt system.
The ASE GF-1 and GF-2 provide an inexpensive, easy to integrate answer for your GFPE requirements. Each GF unit affords GFPE protection for one (GF-1) or 2 (GF-2) 120/208/240VAC circuits up to 60A. The unique design allows installation of your own standard, off-the-shelf overload breaker into the customer load center. Size the breaker and wiring for your system, anywhere from 15A to 60A. Then install the GF unit between your load center branch circuit and the sensor/controller and heat cable. Your overload breaker protects the wiring. Our GF unit provides the Ground Fault Protection.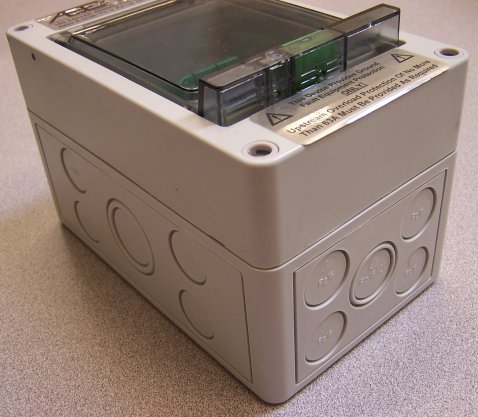 The unit is housed in a rugged, NEMA 4X/IP65 rated enclosure, suitable for mounting indoors or outdoors. The enclosure features a gasket-sealed front access door for easy testing and reset. All internal electronic components are spec'ed for -40oC to +60oC operation. The enclosure is simple to surface mount either near the load center or near the snow melt system, whichever is preferred. Numerous knockout locations on the enclosure provide flexibility for installation and wiring. The enclosure base can accommodate standard 1/2" and 3/4" conduit hubs. Four mounting holes "outside" the enclosure gasket make mounting a breeze while assuring weathertight performance.
The GF-1 and GF-2 can be used directly with our DS series sensors. They can also be used with contactor panels, switches, any system up to 60A. Since the overload protection is provided by the load center breaker only two GF models are required to cover the full range of 15A to 60A, one or two circuits. This keeps stocking costs low but also allows including ground fault protection with kitted systems without the requirement of identifying the customer's load center type and researching if a combined overload/GFPE breaker is available, how long it will take to receive, and at what cost. Odds are a conventional overload circuit breaker is available locally, from stock and at a reasonable price. Including a GF unit in the snow melt kit completes the system and makes it ready to install. And the GF unit provides a ready-made answer when installing or retrofitting a snow melt system in an older facility, one wired well before the term "GFPE" was coined. Its an easy upgrade to help bring an existing system into compliance with modern code requirements.
Important Note: The GF-1 and GF-2 can carry up to 60A but conductor capacity is limited to #14 AWG-#6 AWG wire CU only.
Protect Your Customer
Protect Your Company
Protect Yourself
Specify a GF-1 or GF-2 Ground Fault Protection Unit to
Provide Economical, Easy To Install GFPE Piece-Of-Mind


Works Together With Your Inexpensive, Off-The-Shelf Overload Circuit Breaker


Provides True 30mA Trip Point GFPE Protection


Meets NEC Article 426.28 and 427.22 Requirements


Meets CEC 62-300 Requirements


Protects 120/208/240VAC Systems up to 60A (#14-#6 CU-Only Conductor Capacity) Not Compatible With 277VAC or L-N-L 240VAC


NEMA 4X Enclosure for Indoor or Outdoor Installation


Latching, Sealed, Hinged Front Cover for Easy Testing and Reset Access


No Overload Rating Means Just Two Part Numbers for Simple Stocking


Easy Installation, Full Access for Wiring


Works With Standard 1/2" and 3/4" NPT Conduit Hubs


Enclosure is UL Listed for US and Canada. Residual Current Circuit Breakers Are UL Recognized
Download The GF-1/GF-2 Installation Manual In PDF Format


Looking for Remote Control & Monitoring, Cabling, and Other Components?
Take a Look at DS Series Accessories

For More Information, Contact
Automated Systems Engineering, Inc.
2833 N El Paso Street
Colorado Springs, Colorado, USA 80907
Phone: 719-599-7477


info@goase.com
We accept all major credit cards!






Home DS Sensors GFPE DP-7B CDP-2 EX-50 Cable Sets Parts Manuals Troubleshooting
Best if viewed at 1024 x 768 or higher
This site is copyright 1998-2022 by Automated Systems Engineering, Inc.
Comments about the website? Please contact webmaster@goase.com
Last Update: 06/13/22