DS Series Accessories
Remote Control & Monitor Equipment and Accessories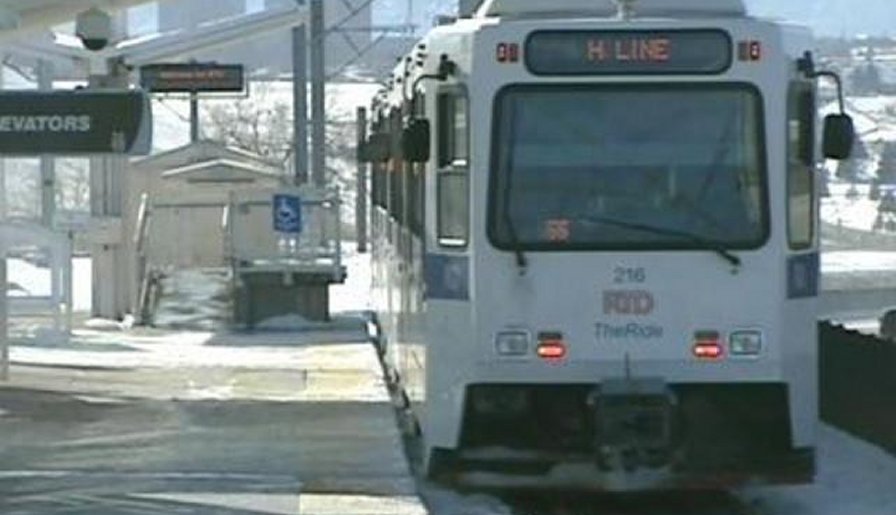 The ASE DS Series of sensor/controllers can be counted on to reliably operate snow melting systems automatically for many years. Sometimes, however, the user would like a remote indication that the system has activated or the opportunity to remotely override the sensor. ASE offers options for remote control & monitoring of a sensor/controller tailored for the broadcast industry and for residential and commercial users. The connection between the sensor and remote control/display panel is a safe low voltage path. No conduit is required.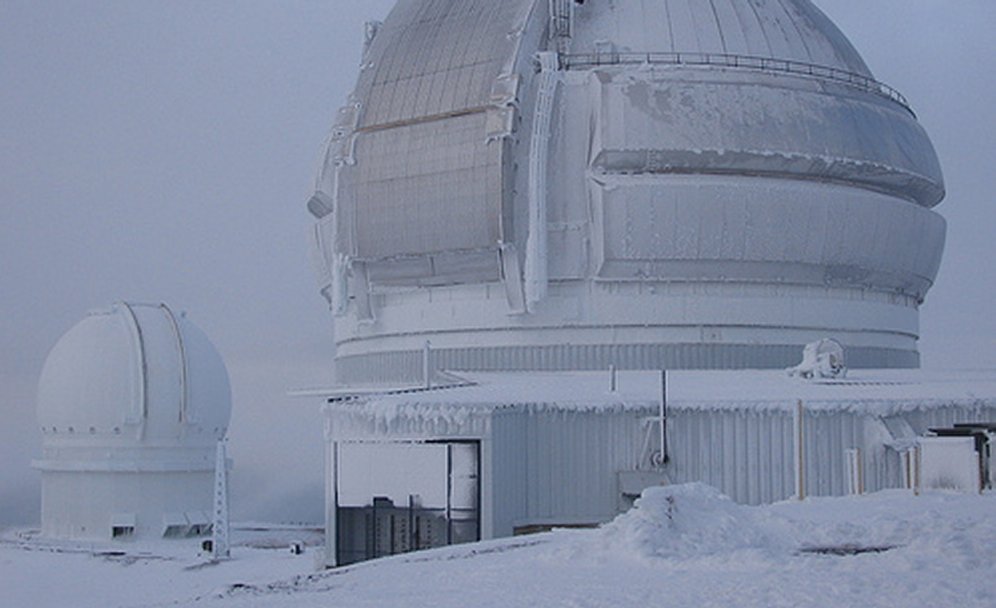 Receive a positive indication that your system is operating and take command when high winds cause extreme drifting that may require extra run time for your system.
Do you need long distance control and monitoring capabilities? Is your system part of a vacation home, unattended transmitter facility, or commercial building? A remote control/monitor option is also available for out-of-reach but WiFi-enabled locations. One check of your smart phone (most Android and IOS) gives you feedback as to your system status and the opportunity to change override mode. Connection takes about 10 minutes, configuration is easy, and the result is peace of mind through active tracking of your system status from anywhere you can reach the Internet.
High quality cabling is a major player in the reliability game. Allow us to provide low cost solutions for your sensor-to-remote panel cabling requirements. We stock 50 foot (CS-50), 100 foot (CS-100), and 200 foot (CS-200) rolls of sensor-to-remote interconnect cabling. This cable features foil shielding to improve noise immunity, and tinned, stranded leads to reduce corrosion and assure good connections long term. Don't take a chance with telephone wire, CAT5 cable, thermostat wire or similar. Use the cable that ensures integrity. Buy CS cable sets.
Is a 10 foot length too short for your remote precipitation sensor? Extend the sensor an additional 50 feet while protecting sensitivity with the EX-50 remote sensor extension cable.

The CDP-2 Snow Sensor Control/Display Panel


Convenient Indoor Monitoring and Control


Self Powered, No AC Wiring or Batteries Required


Fits Any Standard Single Gang Electrical Box


Compatible with Leviton Decora®/Hubbell StyleLine™ Cover Plates


You Choose The Cover Plate Color and Material


Smart "Manual On" Operates for One Delay Off Cycle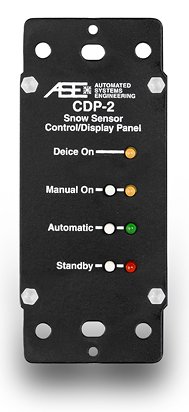 The
CDP-2
brings control and monitoring of your snow melt system indoors. No need to hope that the system has successfully triggered. One glanc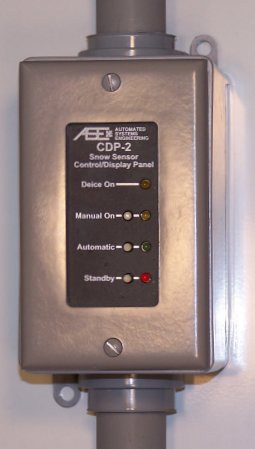 e at the
CDP-2
confirms it! The
CDP-2
is compatible with all
DS Series
rain/snow sensor controllers.
The unit consists of an electronic printed circuit board mounted securely to a steel mounting plate. The overall dimensions of the CDP-2 are 4.1"(104) x 1.8"(45) x 0.9"(23). The unit weighs 2.5 ounces. The CDP-2 fits into a standard single gang or multi gang electrical enclosure. Compatible self-threading mounting screws that fit both metal and plastic enclosures are included. The plate also has mounting holes for a rectangular "modular" cover plate, similar to the Leviton Decora® or Hubbell StyleLine™ series. This allows the user to select a cover plate color and material that blends with the decor of the room.
Wiring is performed by installing an interconnect cable (see below) between the CDP-2 and the companion snow sensor. All signals between the units are very low voltage so no conduit or similar protection of the interconnect cable is required. The individual leads of the interconnect cable are then installed into the rear terminal block of the CDP-2 and the unit is ready for operation. The CDP-2 does not require batteries or an AC power connection. It is actually powered by parasitic voltage "stolen" from the snow sensor. Peak power consumption is only 3.5 milliwatts. Operational temperature range for the electronic components is -40oC to +85oC. Therefore, the CDP-2 can be installed indoors or outside with proper protection from the elements.
The CDP-2 allows control of the snow sensor and also reports the sensor's own override switch position. The "Manual On" function activates the snow sensor and controlled equipment to operate for one "delay off" cycle. The delay off cycle is determined by the DEL switch setting and the DEL adjustment on the snow sensor, 2 minutes in "sensor" mode, 30-90 minutes or 2-6 hours in "controller" mode. This can be handy for testing and special operational conditions, like clearing hail buildup or heavily drifted snow, without the potential expense of leaving the system in a continuous "Manual On" condition. The "Automatic" position allows the sensor to handle all detections and control. The unit will also always revert to "Automatic" mode once a "Manual On" cycle has been completed. A sensor will report activation by illuminating the "Deice On" indicator. The "Standby" position disables triggering even in snow conditions and can also be used to clear the delay off timer from true or test activation.
The older "B" version CDP-2 (no external Standby) can be identified by white pushbuttons. The newer "C" version with external Standby connection has yellow pushbuttons. Both manuals are presented below for reference.
Download or view the "B" version (white pushbutton) CDP-2 Installation Manual in PDF


Download or view the "C" version (yellow pushbutton) CDP-2 Installation Manual in PDF


CDP-2 Specifications
Dimensions
4.1"(104) x 1.8"(45) x 0.9"(23)
Weight
2.5 Oz. (71g)
Operating Temperature
-40oF to +185oF (-40oC to +85oC)
Supply Power
Supplied by connected sensor, 3.5mW max
Control Functions
Manual On/Automatic/Standby
Monitor Functions
Manual On/Automatic/Standby/Deice On

The DP-7B Deicing Control/Status Panel


Specially Designed for the Satellite and Broadcast Industry


Inexpensive Assurance of Proper Deicing Operation


Full Remote Control for Testing


Standard 19" 1-U Rack Mount


M&C Interface for Station Control/Monitor


Includes Universal Power Supply


Control and Monitor Up To 1200' Away



The DP-7B remote control/status display panel provides a low cost method of remotely monitoring and controlling DS Series sensor/controllers and your deicing system. All provide basic Deice On status for the deicing system, along with Manual On, Automatic, and Standby control capabilities.o confirm that heat is being applied where required.
The DP-7B is mounted on a 1.75" x 19" standard rack mount panel. The black powder finish assures high indicator visibility, even from a long distance. Termination of cabling from the deicing system is easily made through the rear mounted terminal blocks on the back of the unit. A small power supply for 120/240VAC operation is included.
All connections to the unit are clearly marked on the rear of the panel to simplify installation. A depluggable terminal block for interface also makes swap-out a snap. Control leads going to the DS series sensor are optoisolated in order to improve noise immunity, reduce ground loop problems, and provide circuit protection. This also allows a DP-7B to be mounted as far as 1200 feet from the controlled sensor.
Dry contact I/O for customer monitor and control equipment is also provided for monitoring the status of the deicing system along with allowing full remote Manual On activation, no matter what position the DP-7B control switch is in. A remote M&C Manual On command will also be shown by a front panel indicator. An RS-422/RS-485 serial M&C interface is also provided for connection to station control/monitor systems. The DP-7B speaks basic IBM BiSync/SABus protocol. It also includes a jack for your own implementation of the Lantronix XPort Direct+ Serial-to-Ethernet converter.
Download or view the DP-7B Installation Manual in PDF.



The Belkin WeMo Maker WiFi/Internet Remote Interface


Remote Control/Monitor for Android and iPhone


Inexpensive Assurance of Proper Deicing Operation


Remote Monitor and Override From Anywhere


Easy Installation, Easy Configuration


Includes Universal Power Supply
The WeMo Maker has been discontinued by Belkin. The following information is for reference only.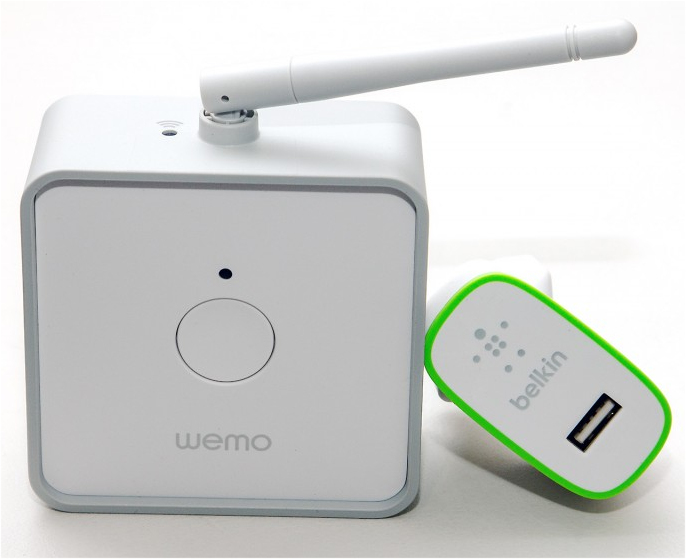 The Belkin WeMo Maker lets you control low-voltage electronic devices with an Android or IOS smartphone or tablet. It's easy to use and works over your WiFi network. The device can be used with any DS Series sensor for remote control & monitoring. Control & monitor proper operation at your vacation home, outbuilding, remote communications shelter, lake cottage, barn, construction trailer, any remote facility that has power and Internet access.
The WeMo Maker is easy to set up and connect to your WiFi. Complete instructions are included with the device. The unit does require an electrical outlet for power. It will remember its last state if power is lost and will return to that state once power is restored. The remote MONITOR contacts of the attached DS sensor are connected to the SENSOR input of the WeMo Maker as shown in the diagram. As the sensor activates and deactivates, the WeMo Maker will detect the monitor relay contact changes and update the application status of the unit on the smartphone.
The WeMo Maker can be wired to control the sensor in one of two ways. The unit can be wired to select STANDBY mode or to select MANUAL ON mode. When released, the sensor will revert to AUTOMATIC mode. Note that all three sensor override modes, STANDBY, AUTOMATIC, and MANUAL ON, cannot be remotely selected with a single WeMo Maker. However, by placing the sensor into MANUAL ON mode using the override switch on the side of the sensor and wiring STANDBY to the WeMo Maker, the user can effectively toggle the unit between STANDBY and MANUAL ON modes but cannot select AUTOMATIC without moving the override switch.
The WeMo Maker can also be used with a CDP-2 Remote Control/Display Panel. The unit is simply wired in parallel with the CDP-2. It is actually preferable to use the WeMo Maker as the "junction point" as the terminal blocks on the device more easily accept two wire leads. Extend the wiring, color for color, and splice an extension onto the unused control lead, be it the Black MANUAL ON or Green STANDBY wire. Activation of the WeMo Maker will be displayed on the CDP-2 in the same manner as the sensor override switch. If wired to MANUAL ON and activated the CDP-2 MANUAL ON indicator will blink. If wired to STANDBY and activated the CDP-2 STANDBY indicator will blink. Note that, if the sensor switch is placed in MANUAL ON and the WeMo Maker is wired for STANDBY and activated the CDP-2 will go dark and stop operating. The operator will not be able to use the CDP-2 but the remaining equipment will still function. As soon as MANUAL ON or STANDBY are released by moving the switch or toggling the WeMo Maker the CDP-2 will begin indicating again. Though CDP-2 control will be temporarily lost this is a valid and safe mode of operation if the functions described are needed. Though not shown, the interconnect cable used from sensor to WeMo Maker should always be shielded, stranded, tinned copper leads (CS-50 style) with the shield drain wire terminated to earth ground on one end only. The same is true if extending the WeMo Maker to a CDP-2.
Download or view the WeMo Maker-to-DS Sensor Installation Guide in PDF.



CS-50/CS-100/CS-200 Remote Interconnect Cable
EX-50 Remote Precipitation Extension Kit


Corrosion & Tarnish Resistant


Shielded for High Noise Immunity


Maintains Good Long-Term Contact With Spring Clamp Terminals


300V Insulation Rating for Safety Near Line Voltage


EX-50 Connectors Require No Special Tools for Assembly


EX-50 Connectors Are Rated IP67, Waterproof for High Reliability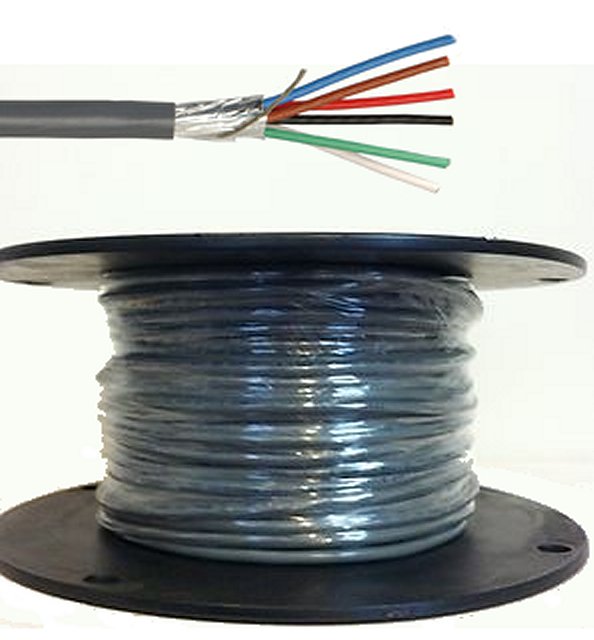 The most important link between a DS Series sensor and a remote control/monitor interface is reliable, high quality cable. Bare copper wires will quickly tarnish in outdoor weather, exhibiting erratic and unreliable performance. Make the wire a solid conductor and dependability drops even more. Telephone wire, thermostat wire, and CAT 5 are not the answer. ASE's CS Cable Sets are. Our wire is tinned for low tarnish and corrosion. It is stranded for stronger, more reliable connection into the terminal blocks. It is shielded for higher noise immunity. All contribute to years of trouble free operation. Cable is available in 50 foot (CS-50), 100 foot (CS-100), and 200 foot (CS-200) reels at very affordab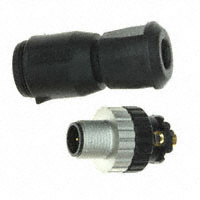 le, competitive prices.
DS Sensors with remote mount precipitation sensors always include 10 feet of interconnecting cable. However, for some installations, this just may not be enough. To assure reliable operation and high noise immunity only use the EX-50 Extension Kit to add length to your remote sensor installation. The EX-50 is manufactured from cable identical to that used in the remote precipitation sensor. Matching outside diameter means a solid, watertight seal when passed through the top-mount strain relief of the sensor enclosure. The cable comes preterminated with a watertight circular connector. The included mating connector can be installed on the end of the sensor cable using standard hand tools. No special crimp tools or soldering is required! And, once mated, the M12 circular connectors provide a rugged IP67-rated watertight connection. The special connector provided also allows extending the cable shield, improving noise immunity and preventing false triggering.
Alternative cables may be cheaper and easier to procure but the future problems they may cause can be expensive. Don't make your interconnects the weakest link in the chain of reliability. Always order CS Cable Sets and/or the EX-50 to help complete your job today and maintain it in the future.
Part Numbers: CS-50, CS-100, CS-200, EX-50
Download or view the EX-50 Assembly Guide in PDF.



For More Information, Contact
Automated Systems Engineering, Inc.
2833 N El Paso Street
Colorado Springs, Colorado, USA 80907
Phone: 719-599-7477


info@goase.com
We accept all major credit cards!






Home DS Sensors GFPE DP-7B CDP-2 EX-50 Cable Sets Parts Manuals Troubleshooting
Best if viewed at 1024 x 768 or higher
This site is copyright 1998-2022 by Automated Systems Engineering, Inc.
Comments about the website? Please contact webmaster@goase.com
Last Update: 06/13/22